Imagine someone built a luxurious home on an upscale lake shore property and gave it to you outright. How would you respond? What would prevent you from enjoying such an extravagant gift?
Recently our family stayed in a house like that. When we drove up oooo-ing and ahhh-ing, we had no idea this stately historic home had a tragic past.
The story goes that a successful contractor built it as a surprise for the woman he loved. He carefully selected the fountain, chandeliers, tile, and stained glass. But he didn't just envision it as a lover's getaway. He designed it with a whole family in mind, complete with a room for the nanny adjoining the sun-drenched, spacious nursery.
As construction wrapped up, he died suddenly. When his wife read his will, she received another devastating shock. She was startled to learn about the house, and stunned that it wasn't for her. He had built it for his secretary.
The secretary was reeling too. Until then, she had been unaware of his feelings for her. For the rest of her life, the shame of being "the other woman" kept her from seeing the house, much less living in it. She refused to even speak about it. Her gift sat abandoned for years, until she finally agreed to sell it for a fraction of the original value.
When we stayed there nearly 100 years later, her story touched a nerve with me. I know it's just a building, but the sense of disappointment in the house was palpable. This building never fulfilled it's original purpose, and both the giver and the recipient died with unfinished business.
Then God showed me how in a sense I was "the other woman".
He loves me and gives me gifts. But how often have fear, shame, or unforgiveness prevented me from enjoying them? How often do I ignore them, rather than making myself at home in His extravagant love?
As my gifts sit neglected, they lose their value. It's a vicious cycle. When we're convinced we have nothing to offer, we become guarded with what we have. Instead of seeing our gifts as something to give, we see them as an embarrassment to conceal. The longer we hide them, the less valuable they are. By the time we finally open the shutters and let someone in, the original beauty has faded, and we feel ashamed that we wasted something so precious.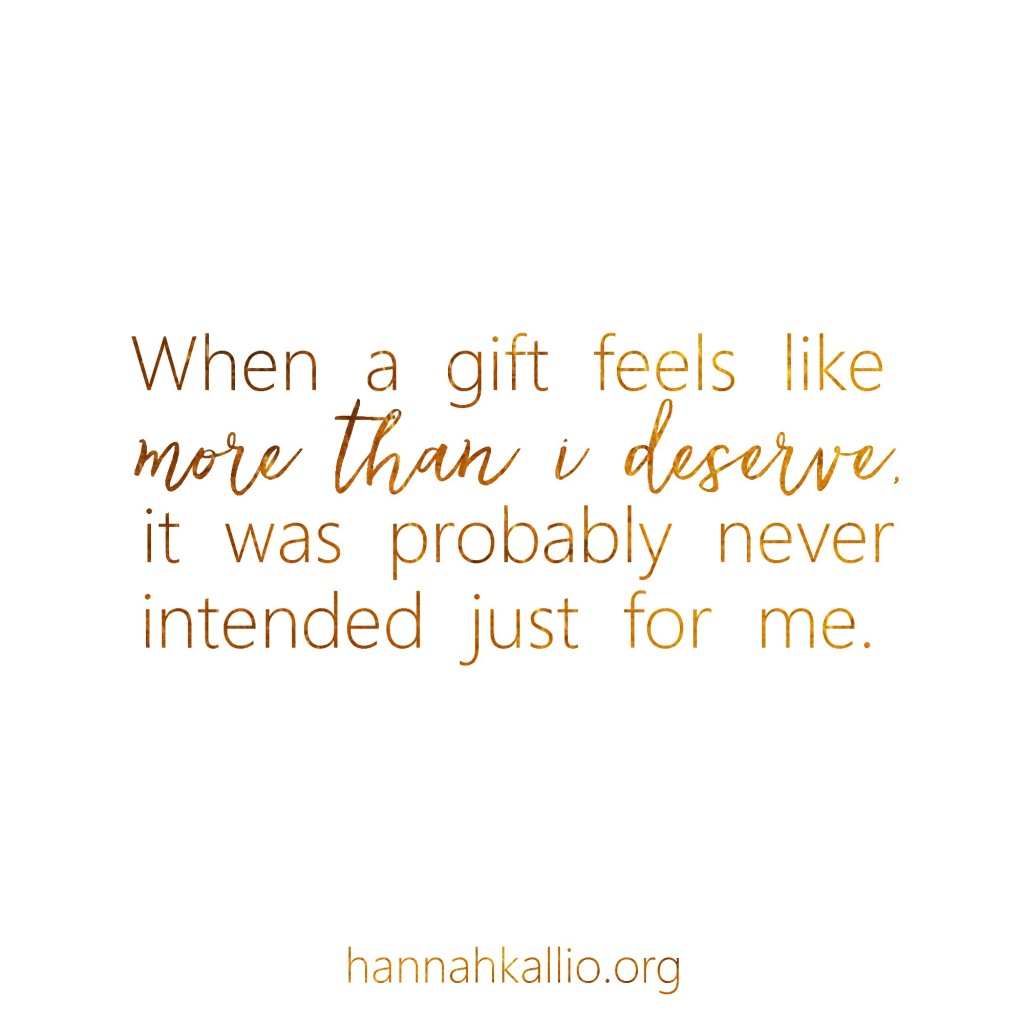 This story serves as a powerful illustration of how I was relating to God. Yet it in no way depicts how God relates to us. His motives in the relationship are completely pure. He is the ever-faithful husband.
Even though his gifts comes with no strings attached, I still related to him from a place of shame and fear because of lies I believed.  This woman's story gave me fresh eyes to see how those lies kept me from receiving his gifts with love and gratitude.
Contrasting this story of secrecy and infidelity with the story  of our God, the Faithful and True, heightened my desire to live in the light and help other believers break free from shame, fear, and lies.
The beautiful house that never became a home challenged me to claim the gifts God has for me. When something He's given me feels like more than I deserve, it's usually because it was never intended just for me. Like the house, every gift is meant to be shared in family. Here are some questions I've been asking myself:
What's one gift you feel comfortable with? How can you extend that gift to more members of God's family?
What gift do you feel guarded about? What step could you take to become more "at home" sharing that gift?