Have you ever put off saying something, not because it wasn't important, but because it was SO important you didn't want to get it wrong? I avoided writing this for almost two years for that reason.  But I've shared this experience with my closest friends and tested it in my own life, and it's time to share it with you.
Late in my fifth pregnancy, I was literally crying out to God.  In spite of everything we'd invested in our family, we weren't seeing the fruit we expected.  We had stalled out in many areas of our life, yet I wasn't aware of anything I hadn't yielded to God. I felt a  mixture of anger, sadness, and confusion. I can't remember the exact wording, but I said something to the effect of "I've laid down my life for this family.  What more do you want from  me?" I will never forget God's response,
"If you want to lay down your life, first you need to get a life".
Disclaimer: If you're already convinced of your value as a daughter or son of God, this message may not be for you.  But if you find it easier to disappear into serving roles than to take responsibility for your own needs, you may need to hear this.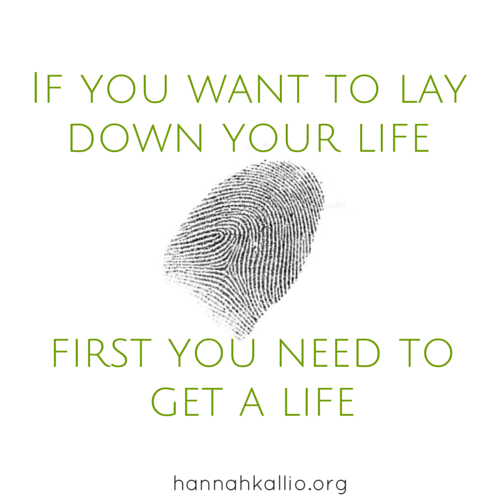 Instantly I knew it was God's word to me. It was like a punch to the gut, but I felt more peace than I had in months.  Why would God say that to me?
I wrote about the abundant life in the kingdom of God, but I lived like there wasn't really enough to go around. I justified all kinds of self denial as being "for the family".  Without knowing it, I was driven by pride, and a kind of idolatry.
It turns out you can make an idol out of anything, even living sacrificially.
So what's the solution? Listening. God prefers Listening to and responding to him over making sacrifices.  And they aren't mutually exclusive.  God asks us to sacrifice, consider others better than ourselves,  and lay down our lives.  But when he prompts us to receive, take a vacation, or invest in ourselves, some of us we need to take those promptings seriously as well.
Before, I hid behind the sacrifices I was making for the family.  Now, I'm responsible for how I reflect God's image and how I steward the gifts he's given me.  No excuses. God has challenged me to spend time and money in pursuit of the dreams he planted in me long ago.  To be honest, it's terrifying…and I'm becoming the woman I always wanted to be.
If this sounds too self-helpy to you, I get that.  But when Yeshua said he gave us his peace, he wasn't talking about just absence of conflict.  He gave us Shalom (as in wholeness, completeness, total well being, NO EXCUSES).  The good news of the kingdom really is good news, in every sense of the word.
What part of your life still needs to hear the good news?